Internals Complaints Committee (ICC)
Established at MMCH&RI in the year 2018 as per ugc guidelines issued in 2016.
ICC MMCH&RI & ICC MAHER university
| S.NO | NAME OF THE MEMBER | ROLE IN THE COMMITTEE | CONTACT DETAILS |
| --- | --- | --- | --- |
| 1 | Prof.A.Kala MD,DGO (Dept of Obstetrics & Gynaecology) | Chairperson | 9677201760 |
| 2 | Prof. K.Namita Bhuvaneshwari, MS DO (Department of Ophthalmology) | Member Secretary and Coordinator | 9444288784 |
| 3 | Dr.M.Ardhanaari MD (psychiatry) Associate professor | Member | 9445520382 |
| 4 | Miss.K.Mahalakshmi | Member | 9787197645 |
| 5 | Mr.P.Kamal | Member | 9597994433 |
| 6 | Dr.Chindoja (PG Student ) | Member | 9597526210 |
| 7 | Dr.Devalapalli Sai Sneha(PG Stiudent) | Member | 9901997585 |
| 8 | Ms.Madhumitha P.K (UG Student) | Member | 6383994698 |
| 9 | Mr.Venkatesan(NGO) | External Member | 7339047990 |
Goal
To create harassment free and safe workplace environment
Functions of ICC and Programmes
Create a safe work place environment.
Gender sensitisation and gender equality.
Establish and maintain zero tolerance to sexual harassment.
Annually we conduct 2 programmes and send the annual report and programme report to the university.
Grievance box is kept in the premises(outside deans chamber in college and in the hospital).
Posters are displayed distinctively in the hospital and college campus with contact details.
Complaints can be received directly or from the grievance box or from mail id(iccmmchri18@gmail.com)or through phone.
The enquire committee will be formed and the confidentiality is maintained.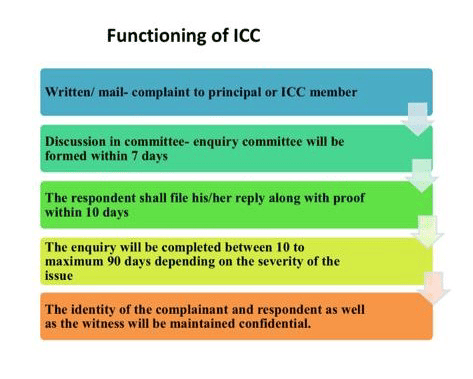 Role of management
Develop a workplace harassment policy.
Develop a complain and registration management system.
Communication, training to all staffs by periodic workshop and program.
Conduct awareness program and periodic workshop and counselling is provided.
Zero tolerance policy towards sexual harassment.
Sexual harassment will be considered as a misconduct under service rule.
Sexual harassment will be treated as a violation of disciplinary rule.
Deserves severe punishment.
FIR can be registered and legal action will be followed.
Punishment
Withholding the privileges.
Suspension.
Expulsion.
Counselling.
Sexual harassment
Any unwelcome physical, verbal or non verbal conduct of sexual nature.
Demand or request for sexual favors.
Making sexually coloured remarks.
Physical conduct and advances.
Showing pornography.
Implied or explicit promise of preferential treatment as quid pro quo for sexual favors.
Implied or explicit threat of detrimental treatment in the conduct of work.
Implied or explicit threat about the present or future status of the person concerned.
Creating an intimidating offensive or hostile or learning environment.
Humiliating treatment likely to affect the health,safety,dignity or physical integrity of the person concerned.
Conclusion
Don't hesitate to register a complaint.
Confidentiality is maintained.
Harassment free and safe workplace environment.